A New RYOBI MHI 755 XLG Positions Dynagraphics / Wood Printing for Growth
SOLON, Ohio—July 1, 2015—When large-format and screen print firm Dynagraphics Inc., in Decatur, Illinois, acquired nearby commercial printer Wood Printing Service this summer, the team chose not to bring over the six-color, 40″ press built in the late 1980s. "It took over an hour to wrench the four plates on it," explained Scott Bowers, Dynagraphics' vice president. Bowers knew they needed to upgrade their pressroom: He just didn't know to what.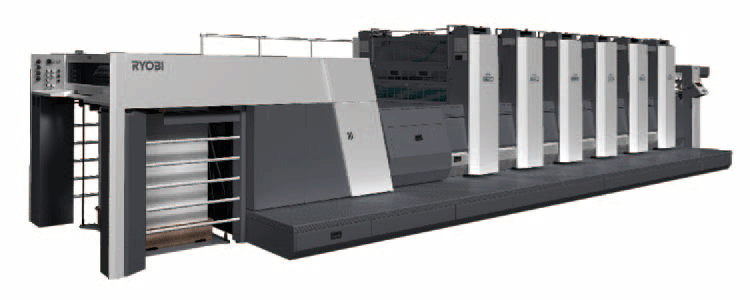 "We looked at several used half-size machines that were fairly new and had automation," recalled Bowers, "but then KW Graphics encouraged us to think about the RYOBI MHI press we saw at GRAPH EXPO. After we considered maintenance cost on a used press versus the expansive warranty on a new RYOBI, we decided that a new solution, with much less downtime, would be less expensive to operate. Plus, our dealer support is only 30 miles away, and their Don Schmidt is one great mechanic."
To celebrate the rebranding of Dynagraphics/Fast Impressions and the acquisition of Wood Printing, a new RYOBI MHI 755 XLG model with aqueous coater and Smart Insta.Color technology will be installed later this summer. This move provides the combined companies' customers with faster turnaround time, new print capabilities and dramatically improved print quality for the brochures, booklets, postcards, presentation folders and letterheads that Wood Printing has provided since 1954. Together, the joint companies employ 60 people, now occupy some 32,000 square feet of space and have annual revenue of approximately $9 million.
"We want to congratulate Scott and his team on both acquisitions; Wood Printing and their new RYOBI MHI press," stated Derek Gordon, Midwest regional manager for Graphco (RYOBI MHI distributor). "We are thrilled to be part of the rapid expansion at Dynagraphics/Wood Printing."
With five- to 10-minute makereadies, there is no doubt that the offset printing process will be expedited and the new RYOBI MHI joins a Xerox iGen Diamond digital press for variable-data mail pieces. "Jobs will be completed on the new RYOBI MHI press before they would have even been getting started on the old machine," Bowers boasted. This much faster production time will also bring down costs.
"I think we will get a higher percentage of quotes with the new press," he added. He also knows they have to "feed the beast," which is why Dynagraphics/Wood Printing will be feeding and educating customers and prospects in lunch-and-learn events later this summer and into the fall.
Bowers doesn't envision demand being a problem. "We are intrigued by LED-UV curing, and we may retrofit our press in the future," he concluded. "I can see us investing in this technology in one to two years but the competitive advantage the new RYOBI MHI press will provide immediately positions us for rapid growth here in Central Illinois."
About Dynagraphics/Wood Printing
Dynagraphics provides a single source solution for printing and graphics needs, featuring high quality large format printing, as well as digital, offset and screen printing. Based in Decatur, Illinois, they focus on assisting their customers build brands, and communicate their message effectively and competitively.